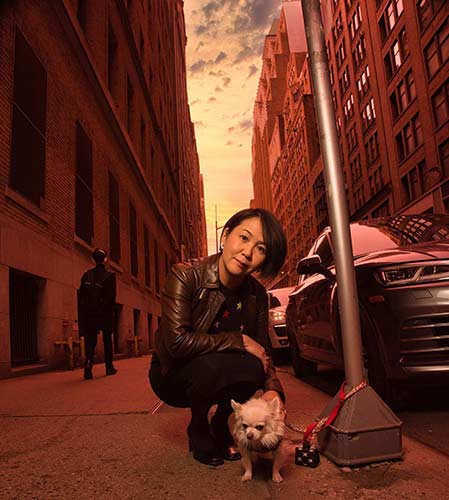 YUKO SHIMIZU (清水裕子) is A multi-award-winning Japanese illustrator based in New York City.  Yuko is an instructor at The School of Visual Arts and has almost 20 years of experience illustrating.
Her work includes multiple disciplines; from pages of The New York Times, TIME, Newsweek, The New Yorker to WIRED,  covers for DC Comic, Penguin, and Scholastic, advertising for Apple, Microsoft, Intel, Universal Pictures, SONY, Paramount, MTV, Nike, Hasbro, and Target, to name a few.
Additionally, she has collaborated with the Smithsonian Museum, Philadelphia Museum of Art, and Library of Congress. In 2020, collaboration with Artechouse brought her drawings to large-scale interactive experiences.
Yuko is a two-time Hugo Award nominee (2019, 2020), has won more than 15 medals from the Society of Illustrators since 2004, and was recently awarded the Caldecott Honor (2021), one of the highest awards for picture books, for her work on the children's book The Cat Man of Aleppo (Penguin, 2020).  Yuko was also chosen as one of the "100 Japanese People the World Respects (世界が尊敬する日本人100)" by Newsweek Japan in 2009. 
FUN FACT: Illustration is actually Yuko's second career.  Although art has always been her passion, she had initially chosen a more practical path of studying advertising and marketing at Waseda University and had a career in corporate PR for 11 years before moving to New York to study art for the first time. Yuko graduated with MFA from SVA's Illustration as Visual Essay Program in 2003 and has been illustrating and teaching since.
FUN FACT 2: Please do not mix Yuko up with another Yuko Shimizu (not me!). This Yuko did NOT create Hello Kitty.
photo: ©Makoto Ishida 2019